Expertise and Professionalism
Working together since 2007 we have walked side by side, always on the path of advanced aesthetics. In our team you can find the knowledge and the complicity of those who like to be constantly evolving and who share the same professional values. Know more about us.
Silvia Ganhão
FACIALIST / ADVANCED AESTHETICS
I started my professional career in the area in 2005 through my training in aesthetics treatments and cosmetics at the National Aesthetic Center. Here I discovered that what fascinated me most, about aesthetics, was the face, the dermocosmetic, the anatomo-physiology and everything that allows me to better understand the cutaneous functions and this wonderful organ that is our skin!
In 2007 I started working in a renowned aesthetic clinic, where I confirmed my passion for facial aesthetics, and where I developed my technique and knowledge. There were several formations that I attended and much that I developed since then as an aestheticist. My path continued and I entered the fascinating area of ​​teaching and stayed there for 4 years. In parallel I was responsible for a day spa and later collaborated with a renowned dermocosmetic brand.
Throughout this period of time I continued to invest in my training. Manual lymphatic drainage, aromatherapy, microblading, specializations in chemical peels and microneedling are examples of my academic growth.
I decided to open my own facial aesthetic treatment center, do to a lack of offer that exists in this specific area and to be able to exercise aesthetics taking into account my professional values.
I hope for you in my facial aesthetic center, because your skin is my passion !!
Giselle Sousa
ADVANCED AESTHETICS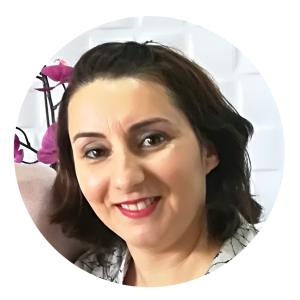 For me aesthetics is a deep love, my essence.
In 2005, I joined the European School of Aesthetics to be a Beautician-Cosmetologist. The aesthetic was so much more than what I was expecting it to be!
In 2007 I started to be a beautician / cosmetologist in an advanced aesthetic center of national renown. It was here that I grew up, both personally and professionally!
In 2012 I took the eyelash extension training and fell in love with this service! Also in 2012 I started the training of trainers and started my other career: Teacher.
During this time I was performing various certifications and case-studys in the area of ​​advanced face aesthetics.
I have been working with top brands that have also been updating and looking for cosmetics that best meet the needs of customers.
The aging skin, in its different aspects, acne, dyschromias are an area where my work has been most striking.
Often they ask me: why the face?
Perhaps because it is the region of the body that requires more attention when it develops problems, and perhaps the most neglected.
I tend to connect to complicated cases, to go in search of the best solution, and try to give a more lasting result.
I am a persistent, ethical and professional.
I have developed in the area that I like best within aesthetics, I collaborate with professionals of excellence to give effective results. And, the icing on the cake, I have the possibility to train professionals with the principles that I know to be indispensable in this area: love for the profession; ethics and professionalism.